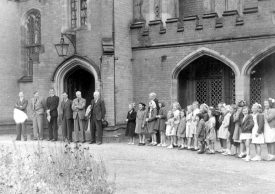 IMAGE LOCATION: (Warwickshire County Record Office)
Reference: PH, 649/72, img: 3697
This image is subject to copyright restrictions. Please see our
copyright statement
for further details.
Nicholas Chamberlaine, rector of Bedworth, founded this almshouse in 1715. He declared in his will: 'I, having no child, do dispose of my estate to the charitable uses following'. His bequests included money to found a school as well as the almshouse (these were sometimes called a hospital in times gone by). 1
The buildings
The original foundation, in the grounds of Bedworth Hall, housed 18 people, but a larger set of buildings was erected around 1840 and by 1874 they housed 40. Copies of the lithograph shown here were sold to help fund the building of an infant school-house on Bedworth Heath.  Women were housed downstairs originally, and men or women upstairs. The courtyard surrounds communal gardens with a central pumphouse containing two pumps, one providing well-water for drinking and the other rain-water for washing. In addition to rooms for the almspeople, the site included accommodation for the Vicar, the Master and Matron, a schoolmistress and a Governor's Hall.
Trustees meet in this grand hall that contains a minstrels' gallery and wood panelling with coats of arms. The site provides an attractive oasis in the centre of Bedworth and well deserves its listed status. The hospital and an interesting display in the Parsonage are open to the public on occasions and well worth a visit.
The Almspeople
The foundation was originally intended for single widows or widowers who had been born in Bedworth. The latter rule proved too restrictive and 19th-century censuses show that old people who'd been born elsewhere were admitted. Clothing was provided (a kind of uniform) including a bonnet, an apron and a red checked shawl for the women and a smart 3-piece suit and hat for the men. The residents were required to attend the local church twice on Sundays and twice daily prayers in the schoolroom. They were given a small weekly income, a clothing allowance and coal for heating.
Problems could arise from two people sharing a unit: there are tales of a chalk line drawn down the middle of a shared room, and occasional fisticuffs. 2  Serious illness or dementia could be a problem: a resident became 'a dangerous lunatic' and was removed to the County Asylum where she died of exhaustion a few days later. 3
Bun Day
On Founder's Day new uniforms and a meal were provided for the almspeople and school children. However, this became too expensive and so buns are now given out instead in the Nicholas Chamberlaine schools. Founder's Day is therefore now known as 'Bun Day', as can be seen in the photo.   Does anyone know why it was called a 'Bun Worry'?!
References
1 Will of Nicholas Chamberlaine, 1715, cited in the Parsonage display, Bedworth.
2 Personal communication with John Burton
3 Report by the Rector on the Almshouses, 1856. Warwickshire County Record Office reference DR 225/373/1