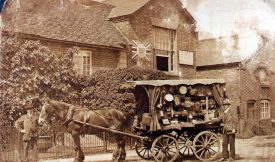 IMAGE LOCATION: (Leamington Library) PEOPLE IN PHOTO: Barr as a surname
Reference: Leamington Library, x, img: 5519
This image is subject to copyright restrictions. Please see our
copyright statement
for further details.
I was born and brought up in Clapham Square, one of ten children. Sadly, one of my brothers George was drowned in the canal with a friend when he was about seven. I was a baby at the time so have no recollection of him. I started school when I was three or four I think, probably because I came from such a large family. Although there were so many of us at home and we were poorly clothed, we never went short of food as my father had an allotment over the bridge in Clapham Terrace, where he grew all our vegetables, and kept chickens and pigs. I do remember having free boots, sometimes odd ones from a shop called Smith's in Clemens Street. The corner shops in those days were 'open all hours'. There were five or six in the Clapham Terrace area alone.
Work and play
My best friend at school was Stan Maddocks, who lived in Rushmore Place. He would climb over the wall to my house, and we'd be off down the 'cut' together. My other mates were Alec Wood and 'Dink' and Joe Colledge. There were so many children in that area that I was never short of mates. In my early teens I worked for George Barr, a hardware store in Clemens Street and then, when I left school at 14, I started at Spa and Warwick Timber on Old Warwick Road. I moved on to another timber company, Thomas Higginson in Milverton, where the family had moved to by then.
During the war, I joined the Warwickshire Queen's Own, West Kent Division and saw service in Burma, where I suffered a bad leg injury and spent time in hospital in Calcutta, and also back in England. Stan Maddocks came to visit me in hospital, looking very handsome in his naval uniform. One of my fellow class mates from Clapham Terrace School, Wallace 'Wally' Powell was killed over Dieppe in the early stages of the Second World War. Others from the school were killed.
Remembered with great affection
I remember my days in Clapham Square and Clapham Terrace School with great affection. Poverty was rife, but I had a good family and great mates.
This article is part of a collection of reminiscences held at Warwickshire County Record Office. The article is under reference CR4914/9, although it's worth noting that some of the collection is unavailable for general access.