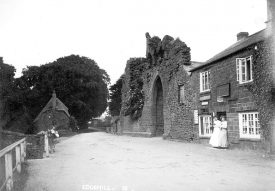 IMAGE LOCATION: (Warwickshire County Record Office)
Reference: PH, 352/150/1, img: 2118
This image is subject to copyright restrictions. Please see our
copyright statement
for further details.
Folly buildings were added to the landscape by people who admired the romantic and the picturesque. They usually imitate the style of a previous age (sometimes even being built as ruins) and often become popular features of the local landscape.
The 'Castle' in Radway
This mock castle was built in the 1740s on his Radway Grange estate by Sanderson Miller to his own design. He was a gentleman architect, responsible for the design of the Shire Hall in Warwick, and a garden designer fond of including gothic follies in his landscapes. He also worked on the nearby Upton House estate, now owned by the National Trust. Edge Hill castle, which is Grade II listed, is built of the glorious local Hornton ironstone.
The octagonal tower (said to have been inspired by a tower at Warwick Castle) is known as the Radway tower; it was intended to house a statue of Caractacus but unfortunately proved too small for this purpose (the statue remains in the garden of Radway Grange). Bertie Greatheed was very scathing about the tower in 1823 ' Lewis's sham Guys Tower at Radford turnpike is the most preposterous & hideous thing the eye ever beheld; one doubts whether it is the work of a fool or a madman.'1 However, I think it adds character to the scene.
The building today
The site was converted into an inn in 1822 and buildings added during the 19th century. It belongs to a local brewery and is still in use as an inn today. I think the picture of the site (shown in the middle photo) is the wrong way round – perhaps drawn from a negative.
Commemorating the battle of Edge Hill
The castle was planned to commemorate the centenary of the battle of Edge Hill that had been fought nearby in 1642, at the start of the English Civil War, and it stands near the site of King Charles' headquarters before that battle and occupies a commanding position on the crest of Edge Hill. There is information about the battle of Edge Hill inside the building and a commemorative plaque in the garden, which has a splendid view of the battlefield below. although that now lies in Ministry of Defence property, so is not accessible.
1 Diary of Bertie Greatheed, Warwickshire County Record Office reference CR1707/125 Dec. 4 1823.