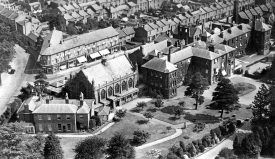 IMAGE LOCATION: (Warwickshire County Record Office)
Reference: PH, 325/111/242, img: 4821
This image is subject to copyright restrictions. Please see our
copyright statement
for further details.
All over the county there are many beautiful gardens and parks. For example, you may know of the famous Jephson Gardens in Leamington Spa, and the charming grounds at Charlecote Park and Baddesley Clinton. However, have you heard of The Arboretum, Leamington Spa?
Very little of the arboretum survives today. Yet in the mid 19th century it covered a wide expanse of land on the edge of town. As the illustrated ground plan shows (CR 3924), the spacious arboretum was situated between Tachbrook Road, Tachbrook Street, and St Helen's Road. The land was purchased in 1851 by Dr John Hitchman (1805-1867), who was a surgeon, a prominent member of Leamington society and a great philanthropist. He enriched the space "with thousands of flowers, shrubs and exotic trees and [opened] it free to the public"1 as an arboretum. Perhaps unsurprisingly, the 11 acres of land had another practical purpose too. It was turned into "a Nursery for the cultivation and sale of plants"2, which was a popular trend during the Victorian era.
Rare trees and plants
The arboretum contained "one of the largest collections of fine specimen trees… in England."3 Indeed, the list of rare conifers featured on the second half of the document4 does not disappoint. Ninety-three different specimens are listed, and it is hinted that there were many more. Flowers were in abundance too, and undoubtedly visitors were not stuck for choice!
The marketing of the arboretum's collections is intriguing. For instance, WM. Milton, Superintendent, writes that buying specimens affords: "an opportunity of planting Avenues of Araucarias, Golden Yews, and Hollies, as at Elvastoa Castle; Cedars of Lebanon, Deodar Cedars, Cryptomerias, new Cypresses, &c., as at Warwick Castle, Chatsworth, Woburn Abbey, &c."5 It encourages buyers to think about landscaping on a grand scale. Indeed, it implies that buyers' lawns, and Leamington Spa itself, could become as majestic as those historic places if the right trees were planted.
The "Hydropathic Establishment"
According to Mark Johnston, "John Hitchman was the driving force behind much of the early street planting in Leamington Spa,"6 yet Hitchman's efforts did not focus solely on tree planting. He extended the land at the arboretum and opened a "Hydropathic Establishment" (a hospital) within its grounds in 1863. This establishment, which demonstrates Hitchman's use of homeopathic medicine late in his career, combined "landscape gardening and arboriculture with healing."7 The treatment involved using water "at temperatures graduated according to the nature of the disorder, aided by a properly regulated diet and regimen."8 Methods included separate "Electric and Electro-Magnetic Baths"9 for men and women. They, along with other treatments, were said to cure all sorts of complaints. Both the arboretum and the "Hydropathic Establishment" were advertised regularly in the local newspapers.
Closure
Sadly, Hitchman died suddenly in 1867, but the hydropathic hospital survived until 1883. After its closure, it was bought by the Royal Midland Counties Home for Incurables, who used the property and grounds as a hospice. The institution was taken over by the NHS in 1948, and finally shut its doors in 1995, most of the land being sold for housing. Today only the road names (e.g. Conifer Grove, Hitchman Mews) and a few original trees hint at what used to be there in the mid-19th century. However, they are a wonderful reminder of Leamington's history, and of course, of an extraordinary arboretum.
References
1 Johnston, Mark. Street Trees in Britain: A History. N.pag. Windgather Press, 2017
2 Warwickshire County Record Office reference CR4624/11.
3 Ibid
4 Warwickshire County Record Office reference CR 3924.
5 Ibid
6 Johnston, Mark. Street Trees in Britain: A History. N.pag. Windgather Press, 2017
7 Johnston, Mark. Street Trees in Britain: A History. N.pag. Windgather Press, 2017
8 Poster, © Jennings, A., Taylor, Robin. www.leamingtonhistory.co.uk
9 Ibid