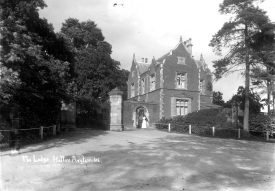 IMAGE LOCATION: (Warwickshire County Record Office)
Reference: PH, 239/346, img: 1604
This image is subject to copyright restrictions. Please see our
copyright statement
for further details.
I ended up working here by accident: when I left school at the age of 17 (in 1968) I was asked what I wanted to be and replied 'a cowboy'. When told there was not much call for cowboys in Warwickshire I said 'a nurse' as a joke. The careers adviser sent me to Coventry Hospital, but they did not have male nurses at that time so they referred me to the Matron at Central Hospital where I was taken on as a nursing assistant. I studied for three years to become a Registered Mental Nurse and later on a State Registered Nurse. I was the first man to obtain the latter qualification at Coventry Hospital, initially causing a certain amount of consternation because there was no changing room for male nurses at that time. I eventually ended up as a tutor for training at the Coventry Hospitals.
Working in a psychiatric hospital
The wards at Central Hospital were named after famous local people including George Eliot, Ann Hathaway, William Parsey (the first medical superintendent at the hospital) and John Conolly (a pioneer of humane treatment for mental illness). Security was important and keys a vital part of keeping patients safe. The porter's keys shown here opened the three gates to the site: the main gate on the Warwick Road, the side gate to Leigh House Drive and the back gate in Beausale Lane. Occasionally patients tried to escape and some ran away up the hill, away from the hospital, towards the Edward VII Memorial Sanatorium (a chest hospital). They were sometimes apprehended in a Dutch barn known to the staff as 'The Tin Ship' (probably a shortening of 'Shippon' – an old English word for a cow barn).
Long-term residents became trusties who sometimes went to visit the nearby New Inn, which was also used by staff. Some long-term patients became institutionalised, losing the ability to cope on their own. Nuffield House and 'Group Homes' were set up to provide rehabilitation: a sheltered environment to help patients become more independent and enable them to move back into the community.
The staff
Several of the staff lived locally in Hatton. Those of us from Coventry were collected at Pool Meadow by an old RAF bus with metal seats that left at 6.30 a.m. to enable us to start work at 7 a.m. Although we were all based on a particular ward, each morning you could be assigned to a different ward, wherever you were most needed. Some of the nurses were ex military. The youngest staff were only 15 years old – cadets working in support services such as the pharmacy, not on the wards; they could start training as a nurse at the age of 18. Each staff nurse had a set of personal keys kept on a ring attached to their belt. Discipline for the staff was strict, it was two strikes and you're out. One final warning and then dismissal.
Treatments at Central Hospital
Patients had access to a hairdresser or barber and a beautician. Occupational therapy was an important part of treatment. Some patients worked in horticulture, growing flowers; others worked in light industrial activities such as assembling cardboard packaging or the wiring for electric fires. On one occasion I was part of a human chain passing parcels of completed products from the storehouse to a lorry in a blizzard.
Some of the treatments used might raise a few eyebrows nowadays. Malaria therapy for GPI (General Paresis of the Insane), produced a raised fever that disabled the organism causing the illness. This treatment had been abandoned by the 1960s because antibiotics proved more effective. LSD therapy was used for a short while. Narcosis Therapy caused a patient to sleep for several hours, which helped their mood. ECT (Electro-Convulsive Therapy) or Insulin Therapy was used to treat depression. There were padded cells where violent patients could be left to calm down but they were very rarely used. The hospital ran clinics for dental, dermatology and chest problems, but patients requiring conventional treatment – such as an operation – were transferred to the Warwick Hospital. One in-patient has recorded happy memories of Central Hospital.
Entertainment
The hospital had its own sports pitches and football team as well as an orchestra. Plans for an Open Day in 1982 included Punch and Judy, piano bashing, swing boats, morris dancers, and a karate display. There were also tours of the hospital and stalls selling bric-a-brac etc.
More information
The history of the Central Hospital site at Hatton is described in a second article on this site. The keys shown here together with some documents relating to Central Hospital and its predecessors have been deposited in the care of the County Record Office.1
1 Warwickshire County Record Office CR 5060.