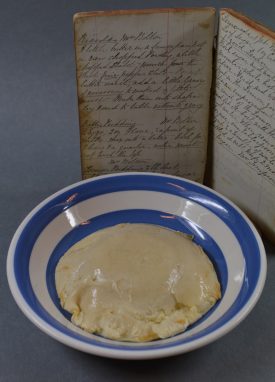 Image courtesy of Robert Pitt, who did fine things with little material. Warwickshire County Record Office reference CR4817/1
This month's recipe is a collective effort. To mark Shrove Tuesday, we decided to do a Batter Pudding – a recipe to be found in an enigmatically entitled archive, Eathorpe School subscription/recipe book1. Taking some potentially dubious leaps of faith, we're thinking that due to the lack of subscriptions within the book, it is a failed effort for a school. Any records we look for elsewhere, too, seem to point to the children of Eathorpe being schooled in places such as Hunningham. If, however, you can point us towards this school, let us know!
The chef in this instance is not writing the piece. Our office manager will be doing a 'proper' cooking challenge come April (thanks Clare) but after this one, there was a resounding 'meh' as the yoof of today would say. What, after all, is there to say about a batter pudding?
Angles to a blob
Now I've tried some angles for this piece, as you can see with the school note above. The recipe is also attributed to a 'Mrs Bolton' but a cursory look through the censuses of the time don't help us either, and an (admittedly brief) scan of the Wappenbury registers bring nothing up, either. Should anyone feel the need to hunt down this Mrs Bolton and succeed, we'd love to know who she was. Based on where the recipe is located in the book, it's safe to assume that it's late 19th century (about 1880s).
So after all that, we're left with the recipe. And what's to say, really? It's a standard batter, uncomplicated to make, but then… boiled. The main question we have is 'why'? There's a perfectly good batter there for pancakes, and now we have a wobbly mass. Not only that, but the time spent boiling it is not inconsiderable.
This is not, it must be emphasised, a Yorkshire Pudding. To my mind, it's got the look of a batter blancmange. Cutting into it, it's a little rubbery in texture, with a softer inside. One question asked is whether it's like an egg custard, which I suppose it is, only more bland and a little harder – not a ringing endorsement from my point of view! Another comment is 'very Victorian' which is handy given the date of the recipe! You'll note we served it with jam, and that's partly to try to give it some flavour. If honest, we have no clue if this should be a starter with gravy (as the first batter puddings were) or if it should be sweet, as per modern pancakes. Leftover bits of Yorkshire pudding used to be reheated and served with jam the next day however, so we're not overly far off.
A Warwickshire recipe?!?
You'll now see why I had to write this one however, as I'm the one with no sense of shame in admitting I know nothing! Surely, *surely* this is not an Eathorpe specific recipe however? Surely Warwickshire gives more in a culinary sense to the world than… this?
So, do you fancy doing such a recipe for Shrove Tuesday this year in lieu of pancakes? Should you feel encouraged to do so, do please let us know how it turned out.
Transcription
Batter Pudding – Mrs Bolton
2 Eggs, 2 oz Flour, ½ a pint of milk, mix into a batter. Boil for one hour and a quarter. Water must not touch the top.
1 Warwickshire County Record Office reference CR4817/1