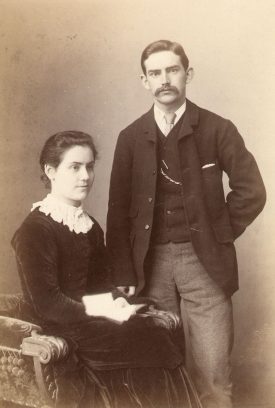 IMAGE LOCATION: (Warwickshire County Record Office) PEOPLE IN PHOTO: Archer as a surname, Archer, Eleanor
Reference: CR, 367/130/25, img: 8156
This image is subject to copyright restrictions. Please see our
copyright statement
for further details.
Miss Eleanor Archer, a lifelong resident of Warwick, was a keen writer and diarist. She was a well-educated woman, who wrote throughout her life on a range of topics, from fact to fiction. This particular essay, entitled, My Favourite Hobby, gives a delightful insight into her life and interests c.1880-1900. It is highly probable that Archer submitted this essay for publication in a magazine, like many of her other essays and stories in this collection. Indeed, she writes on the second page, "Dear Diana, If this is unsuccessful will you please return it me, as I have no copy – no time for it!"
Hobbies and employment
Archer states the importance of keeping busy, especially "when so many unemployed persons find life such a difficult problem to get along with." This comment may relate to her position as an Assistant Overseer of the Poor in Barford. She was appointed in 1894 and held the post for 30 years.2 It was one of many jobs that she held during her lifetime, which included also being "responsible for the census collection and […] a reporter for a local newspaper."3 In addition, Christine Woodland notes that Archer was an "inspector of shops for the L.C.C… [a] health visitor… [and a] National Insurance Inspector". Despite being employed, worshipping regularly, and helping to run the family home, Archer found time always for writing and for her other hobbies. The latter were mainly creative, and other items in the collection include a diary for 18824 – the cover is adorned with used postage stamps – and a notebook dedicated to her sister5. The notebook is an account of a lecture given by a Miss Perkins in 1907 on plants, trees, and flowers of December; it is illustrated with picture postcards and pressings of dried plants.
Cross-stitch
In this essay, however, Archer focuses on the hobby of cross-stitch, a form of needle craft. Archer writes that she loves "to work a design of bold character on a good quality of linen canvas, in Clarke's Stranded cotton". She mentions also that she "can carry this out while listening to a wireless talk or spending an evening with a friend". Her use of cross-stitch in this way supports the idea that "sewing was compatible with the domestic, self-sacrificing and industrious pursuits of the ideal woman". It was, predominantly, a feminine occupation which could be done in any number of situations. Interestingly, Archer proceeds to give examples of two important women who worked on cross-stitch in very different situations, namely Lady Ilkeston and Mary, Queen of Scots.
Influential women
Lady Ilkeston was part of Warwickshire's aristocratic society and is mentioned twice in the essay. Archer thanks Lady Ilkeston for "several charming patterns" which gave her "the greatest delight to work". This includes one pattern which is said "to have been invented by Mary Queen of Scots in prison, the trees worked on with threads drawn from her dress, and the lines connecting them with hairs from her head."7
Archer describes Lady Ilkeston as "the Cross-stitch Craftsmother in Warwickshire Women's Institute work," and praises her creative skill. In terms of her own ability, Archer is more modest. She writes that her one successful "futurist type of afternoon tea cloth" went to a step-sister in South Africa. Her step-sister's husband "is related to a member of the Cape Parliament". Archer continues delightedly that the "cloth had been used at an Election 'Breakfast' she gave, and that it had been 'much admired'!" Perhaps this added to Archer's interest in politics, which she had throughout her life.8
Archer's article gives us not only a snapshot into her life, but also a clear picture of popular hobbies and attitudes of the time. Eleanor Archer was a fascinating, local woman, who filled her life with many pursuits.
1 Warwickshire County Record Office reference CR3682/7
2 Becoming Barford: The Story of a Warwickshire Village. Barford Heritage Group. 2010. Pg.30. Warwickshire County Record Office reference: B.Bar.Bar(P)
3 Becoming Barford: The Story of a Warwickshire Village. Barford Heritage Group. 2010. Pg.30. Warwickshire County Record Office reference B.Bar.Bar(P)
4 Warwickshire County Record Office reference CR3682/1
5  Warwickshire County Record Office reference CR3682/7
7 While this account is a little fanciful, Mary was known to have been an exceptional needlewoman, a skill which she utilised during her imprisonment.
8 Indeed, in the collection there is further reference to her involvement with Joseph Arch and the Liberal Party, and much more besides. See catalogue number CR367.
This article was Document of the Month for the Warwickshire County Record Office in May 2018.  Further articles can be found on their website.