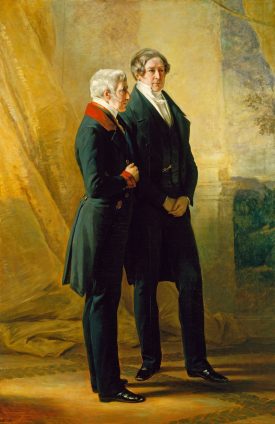 Franz Xaver Winterhalter (1805-73). Image courtesy Royal Collection Trust / © Her Majesty Queen Elizabeth II 2017
On the 9th March 1829 the inhabitants of Halford petitioned Parliament in protest at the plans for one of the most radically transformative constitutional measures of the 19th century, Catholic Emancipation.
The catholic question
In February 1829 the Prime Minister, the Duke of Wellington, and his Home Secretary, Robert Peel, had introduced proposals for the Roman Catholic Relief Bill which would admit Roman Catholics to Parliament, enable them to hold most offices under the Crown, vote in elections, and serve in all municipal and civil offices. The Bill's implications were earth-shattering, challenging the unity of Church and State as enshrined in the revolution of 1689 that had brought William III 'of Orange' to the throne. Ultimately, through the support of the Whigs and liberal Tories, the Bill was passed by a majority of 105.
The Roman Catholic Relief Act marked the culmination of the reforms giving full legal equality to Catholics in mainland Britain – the Papists Act of 1778 had granted Catholics the right to inherit property, in return for swearing an oath of allegiance to the Crown. In 1791 provisions of the Toleration Act were extended to Roman Catholics, legalising Catholic places of worship on condition that these and their priests were registered with Quarter Sessions.
National controversy
The bitterness to be found among the inhabitants of Halford was a small expression of the outrage to be found nationally. Inevitably, the most vehement opponents of the Bill were to be found among the ranks of Wellington's own Tory party. Indeed, Wellington even found himself fighting a duel with his former ally Lord Winchilsea over the issue (both men carefully fired their pistols wide).
The Irish context
It was rapidly escalating political crisis in Ireland that had forced Wellington, hitherto a fervent opponent of Catholic Relief, to embrace Emancipation. William Pitt the younger had hoped to introduce Catholic Emancipation upon the Act of Union between Great Britain and Ireland in 1800, but resigned as Prime Minister when George III's opposition to his proposals became public. In 1823 the Irish nationalist Daniel O'Connell had launched a full-blown campaign for Catholic Emancipation and his election in 1828 as MP for County Clare, an office for which he as a Catholic was ineligible, had again brought the issue to the fore. Indeed, Wellington was left convinced that Emancipation was now the only alternative to a placing a standing army on the island.
This article was the February 2011 Document of the Month for Warwickshire County Record Office. Further articles can be found on their website.