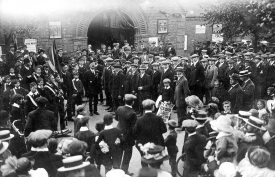 IMAGE LOCATION: (Warwickshire County Record Office)
Reference: PH, 815/21/17, img: 1869
This image is subject to copyright restrictions. Please see our
copyright statement
for further details.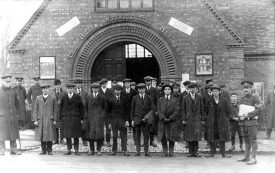 IMAGE LOCATION: (Warwickshire County Record Office)
Reference: PH, 815/21/23, img: 1868
This image is subject to copyright restrictions. Please see our
copyright statement
for further details.
In 1915 it was becoming clear that the new 'industrialised' style of warfare used in World War One needed a much bigger army than the country could raise by volunteer enlistment alone.   However, the government was reluctant to introduce conscription.  
Instead, a census of men and women between the ages of 19 and 41 gauged the potential pool of recruits that might be mustered to fight.  The Derby Scheme, named after the Director General of Recruiting, Edward Stanley, 17th Earl of Derby, encouraged men to attest their willingness to serve and set out dates when men would be called to serve.   
Lack of volunteers
Only a fraction of the numbers needed volunteered under the scheme and many of those were either in a reserved occupation or were unfit for service.  A further proportion had also appealed  for a postponement and an informal Tribunal system was set up locally to hear their cases.  
The Government reluctantly brought in conscription with the Military Service Act 1916.  However, they offered men the opportunity not only to postpone their service, but to be exempted from it absolutely if they could provide sufficient grounds.  Men could appeal against their conscription for a variety of reasons 
that they could better serve the national interest by continuing their existing work or alternative work they wished to do, or by continuing education or training which would better serve the national interest

 

that their service would cause exception financial hardship, commercial or domestic

 

that their health precluded them from fighting

 

that their personal beliefs precluded their service (conscientious objection)

 
The Tribunal structure was established to apply these criteria to the cases brought before them.  A local Tribunal first heard the case and a central Tribunal acted as a final arbiter for difficult cases, providing a precedent for future hearings.  The District Appeal Tribunals offered an absolute right to a second hearing for those disputing the decision of their local Tribunal, whereas permission had to be given for further appeal to the Central Tribunal in London. 
New Military Tribunals
The Local Tribunals were staffed by volunteers and established by local councils.  There were ten in south Warwickshire and councillors made up the majority of their members, with labour representatives and women also allowed to sit.  Members were often placed in a difficult position in making pronouncements on people they probably knew, although they were expected to withdraw from decisions where there was a personal interest.   
Appeal Tribunals members were appointed by the Local Government Board on behalf of the Crown. They heard appeals from those who had applied to Local Tribunals, but also from Military Representatives who might also dispute a local decision.  Military representatives were often recruiting officers and they assisted with the administration of the Tribunals.   
One of the military representatives in Warwickshire was Major Thomas Henry Bairnsfather.  A long-serving military man, he was a respected Justice of the Peace for Warwickshire and served as District Recruiting Officer for Stratford-on-Avon from 1915-18. He had retired from the Indian Army in 1899  and came to Bishopton, Stratford-on-Avon.  
The Warwick District Appeal Tribunal collection includes over 1,300 individual sets of appeal paperwork, each giving the name, address and occupation of the appellant as well as the grounds for his appeal and supporting evidence, the decision of the local tribunal and the confirmation (or not) by the Appeal Tribunal.  A large collection of circulars, pamphlets and instructions from central government have also been retained, as well as a case register and notes of medical examinations given as part of the appeal process.   
This article is part of the Warwickshire Bytes 'After the Tribunals' project, which ran from 2019 to 2020.