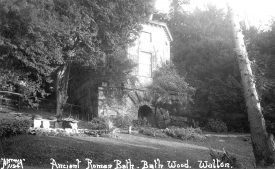 IMAGE LOCATION: (Warwickshire County Record Office)
Reference: PH, 350/2535, img: 3295
This image is subject to copyright restrictions. Please see our
copyright statement
for further details.
Mrs Delany was born Mary Granville in Coulston, Wiltshire, in 1700. At the age of 17, she was married off to the nearly 60 year old Alexander Pendarves, a wealthy Cornish landowner and MP. The arranged marriage was not a happy one.
After Pendarves died in 1725, Mary flourished in what became known as the Blue Stockings Society (a group of intellectual women such as the Duchess of Portland) and cultivated a large range of contacts.
At the age of 43, Mary married Patrick Delany, a 61 year old Protestant Irish Clergyman from Dublin and the marriage proved to be a very happy one. In the year after her marriage, Mary brought Patrick to meet her younger sister Anne, who had married John Dewes in 1740 and lived at Wellesbourne.
Walton Bath House
Along with the Dewes family, Mrs Delany visited Walton and Radway regularly on her visits to England.
At Walton, Sanderson Miller had designed a Bath House for Sir Charles Mordaunt, fashionable at that time in landscape gardens. The octagonal Bath House, built by William Hitchcox around 1749, had a cold plunge bath underneath in fashionable imitation of antiquity and for various health benefits (Sir Charles suffered from gout).
Shell work and stalactites
In June 1754, Mary visited her sister at Wellesbourne again and it was on this visit that she inspired the decoration inside the Bath House at Walton. She wrote that the stucco was designed to represent a wall 'worn by water drops' with icicles (or stalactites) and the fashionable festoons of shells were designed to look as if they had been placed there by 'an invisible sea nymph or triton'.
It is probable that Mary worked alongside her sister and niece as well as Sir Charles' daughters in decorating the upper room, sending a barrel load of shells to Walton in 1754.1 Similar shell work at Wellesbourne Hall was also possibly the work of Mrs Delany or her sister.
Further Warwickshire connections
Catherine Collingwood was a fellow Blue Stocking and many letters passed between Catherine and Mary over the years. Catherine, who at one time had considered becoming a nun, married Sir Robert Throckmorton (4th Baronet) of Coughton Court in 1738. Therefore, Mary's dear 'Collyflower' (as she called her) ended up living not so very far away from Mary's own relations at Wellesbourne.
Mrs Delany also visited Charlecote on one of her visits. George Lucy's housekeeper Mrs Philippa Hayes wrote on 24th July 1749 that Mr and Mrs Dewes brought the 'Dean and Mrs Delany' along to Charlecote with Mrs Viney and her children who were also staying at Wellesbourne. She wrote that 'they spent their whole time in Walking about, only ye old Lady gave us an Anthem upon ye Harpsicord… she is a strange disagreeable Woman'. Unfortunately, it is unclear who she was describing as the 'old Lady'.2
Paper flowers
Mrs Delany's second marriage lasted 25 happy years until Patrick's death in 1768. At the age of 72,  four years after her husband's death and eleven after her sister Anne's death, Mary started to create the paper collages of plants and flowers she is most remembered for. She made 985 botanical collages in total and at least two of these make reference to Wellesbourne.
When Mary died in June 1788 she left a great number of letters as well as her botanical collages.3 Many of her letters were published in 1861/2 by Lady Llanover and her botanical collages were eventually bequeathed to the British Museum.
The Bath House was well-used for many years for picnics, tea parties and dinners but fell out of use after the Second World War. It became prey to vandalism until the Landmark Trust restored the building between 1987 and 1991. Now Mrs Delany's imaginative decorative scheme can be enjoyed once more.
Footnotes
1 According to Pevsner, however, this was installed by Robert Moore in 1754.
2 Letter from Mrs Philippa Hayes at Charlecote [housekeeper], to George Lucy at Cheltenham relating to local news and visitors to Charlecote, 24 July 1749, Warwickshire County Record Office reference, L6/1369.
3 When Mrs Delany neared the end of her life, her 'near relation' C [Court] Dewes sped back from Paris to be with her. After being delayed four days due to 'contrary winds', however, he arrived too late. (Letter from C. Dewes at Wellesbourne to Monsieur Van Agnew at Pau in Bearne (France), June 1788, Warwickshire County Record Office reference Z 680/1(SM))
Select Bibliography
Landmark Trust website, 'The Bath House', History.
Meir, Jennifer, Sanderson Miller and his Landscapes, (West Sussex, 2006), p.155-158.
Peacock, Molly, The Paper Garden (London, 2011).
Pickford, Chris and Nikolaus Pevsner, The Buildings of England: Warwickshire (London, 2016), p.642-643.
Schnorrenberg, B, 'Delany [née Granville; other married name Pendarves], Mary (1700–1788), court favourite and artist', Oxford Dictionary of National Biography online (2008).