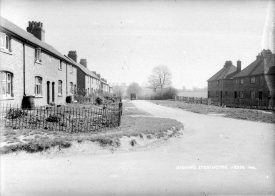 Photographer Victor W Long. Warwickshire County Record Office, Victor W Long/ John F Hughes Collection, reference PH(N) 888/71
Bishop's Itchington is a small village located in the Stratford-upon Avon district of Warwickshire, and is currently home to 2,082 people; this is Audrey's story, and is set in the early 1940s.
Roast pork
Grunty the pig was my pet…for a while, just enough time for a sentimental attachment. He was kept in the pig stye, a place for head scratching and oinking in my back garden. Bonds between myself and Grunty grew over the months; from feeding to petting, we were in each others company everyday, and grew very fond of each other. Oblivious to the concept of Grunty's life, I was devastated when I found out his fate. Unfortunately the fate came around quickly when I found a pink-like meat on my Sunday plate; ever since that day, I never touched any kind of meat again…and remain vegetarian to this day.
Bowyers
This was everyone's favourite sweet shop. The town lit up when the sweets came in and everyone knew at once. All the children would run down together before the sweets ran out again; me and my friends loved it. Due to the war efforts, deliveries to Bowyers were growing more and more uncommon, this meant that when they had deliveries, it was a truly joyful time for the children of the village.
I used to sit with my friends on the wall that enclosed Bowyers and ate my sweets and chatted to my friends.
Shelter
I distinctly remember everyone scuttling into the air-raid shelters. I used to go to my friends one where I played with children of my own age. There were toys and food, that everyone shared, no-one really took notice of the noises outside.
When we weren't in the shelters i used to play in the big cherry tree at the bottom of the garden, although my parents didn't like this (and I regularly got told off) i continued play up and down the tree. Luckily my brother used to play there too, except he took his trains.  He never picked them up and i had to dodge them as i got down. I used to think he did it on purpose but looking back he was just being lazy.
This story was created as part of an intergenerational digital inclusion project, in conjunction with Orbit Heart of England, with the assistance of students from Southam College