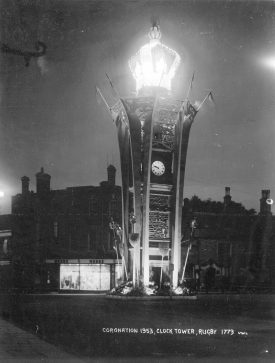 IMAGE LOCATION: (Rugby Library)
Reference: T, 725.976 12, img: 6187
This image is subject to copyright restrictions. Please see our
copyright statement
for further details.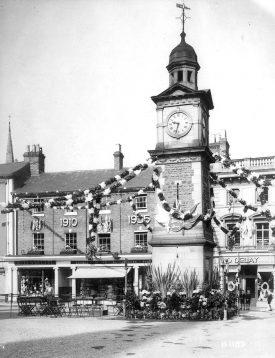 IMAGE LOCATION: (Rugby Library)
Reference: T, 725.976.10, img: 6186
This image is subject to copyright restrictions. Please see our
copyright statement
for further details.
For those of us from Rugby and the surrounding areas, the clock tower in the centre of town is a landmark that's as much, if not more so, a sign of the town than Rugby School, or St Andrew's Church. and now it dominates the entrance to the shopping centre named after it. Throughout its life it's been a constant marker, with houses advertised as being a certain distance from the clock tower1, along with being t's been a place to meet people, a place to catch the bus – it is the town centre.
But what of its history?
Built for a Jubilee
The clock tower was built to commemorate Queen Victoria's Diamond Jubilee. Casting around for a suitable memento for the occasion, originally there were 11 ideas mooted before the idea of a clock tower was chosen. The cost was met with the balance of a fund set up to celebrate this at a cost of £500, it was designed by Goodacres of Leicester and built by Parnalls of Rugby. Built of Derby Dale stone, the structure was partially filled in with Northamptonshire iron stone on a base of grey granite. 43′ high. A plaque states: "erected by the town and neighbourhood of Rugby to commemorate the 50th anniversary."  However, costs had spiralled, and required the clock to be donated in order for the tower to be finished. This clock has four clock faces, one on each side of the tower, and was originally made by Evans and Sons of Birmingham.
Divided opinion
The appearance of the tower turned out to be something of a contention. Originally opinion was divided as to its appearance, but once built the Rugby Advertiser suggested that "it will generally be conceded that it is a decided ornament to the Market Place and worthy of the town."2 Due to budget restrictions, it ended up "a handsome but still plain and unpretentious erection." It was worthy on its opening of a celebratory dinner at the town hall to mark both jubilee, and the contstruction of this focal point for the town.
A threatened existence
Over the years, its future has also been under threat. In the 1930s, Captain D. Margesson, MP for the town and having recently been returned to his seta in the 1931 election and been made government Chief Whip, suggested that the clock tower would have to be taken down, even though this would meet resistance from older residents, as traffic was rather more than when it was erected. Meanwhile, in the Rugby Advertiser of 17th November 1950, a reader mooted the opinion that the Clock Tower was "an unpleasant combination of a bad timekeeper, an ugly pile of masonry and a traffic hazard" and suggested its demolition.
Despite these dangers, however, the tower survived to see in many notable events of the 20th century. In the Armistice of 1918, Rugby's Jubilee Tower Clock was illuminated at the same time as some street lighting was reinstated. Whilst many were glad to see an end to lighting restrictions under the Defence of the Realm Act (DORA), however, some limitations were still kept in place. Meanwhile, at times of national celebration and commemoration it was a focal point for these. It was decorated for George V's Silver Jubilee, and a was also decorated for Queen Elizabeth's Coronation in 1953.
So despite threats to its very existence, it still stands, and will look out over Elizabeth II's Platinum Jubilee celebrations in 2022, How many more people will it be a focal point for, and how many other events will it see in?
References
1 Big thanks to Lukas Kümin, who while on work experience at Warwickshire COunty Record Office, took a look for articles of note with referenc e to the clock tower.
2 Rugby Advertiser Febuary 2nd, 1899
3 Rugby Advertiser, 20th November 1931