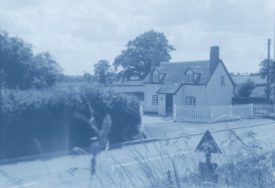 Warwickshire County Record Office reference PH212/25, page 6 no. 2. Part of a photographic survey of Warwickshire parishes conducted by the Women's Institute.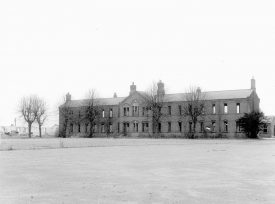 IMAGE LOCATION: (Warwickshire County Record Office)
Reference: PH, 31/5, img: 8243
This image is subject to copyright restrictions. Please see our
copyright statement
for further details.
What of the village itself? Socially, it was largely working class: farm workers and men and some women who commuted to work, either by bike or bus, to work in factories in Warwick and Leamington, along with some lower level clerical and shop workers.
The bus service was very important. It operated between Stratford and Leamington, stopping at a number of different villages on the way. In fact, that was the point of the service, since there was a more direct and quicker route between the two towns. The first bus was at 7:30 and then every hour until 5:30 in the evening. The last bus left Leamington at 6:00, so if you wanted to go out to the cinema of an evening, then the only way would be to go by bike or walk. I should add that there was a decent, hard top footpath virtually all the way to Warwick, and I have walked that many times.
Social life
There were some interesting social oddities. Although the village was almost next to Budbrooke Barracks, connections were very limited indeed; that is, aside from the school children from the married quarters, the fact that the barracks padre offered Sunday school for the village children, and the sight of conscripts on a run through the village. Likewise although there were farmers, apart from being employers of villagers, they played little or no part in the village's social life. Clearly better off than most, they had cars which allowed them to make their connections elsewhere, and class considerations probably inhibited out-of-work contacts with their farm workers. They saw themselves as a superior stratum, even while that stratum was very small.
Regarding  the village's social life, mention should be made of Dorothy, aka 'Dolly' Taylor. Sue Shirley made mention of her in her article. Dolly was marvellous. She was the social organiser; every village of that time should have had one like her. Whist drives, dances, jumble sales, the annual party for the village children, a village bus trip to the seaside… Dolly would be involved and help make it happen. She was also a very nice person. A teacher at All Saints School in Warwick, she loved children even while she and her husband did not have any. She was the only child of the Gullivers and she and her husband lived with them. The Gullivers had some social cachet which must have instilled a sense of social obligation in Dolly. Quite where that cachet came from was a bit of a mystery, at least to me. But when cocoa returned to England for the first time after the war, the Gullivers were assigned the role, by the government, of distributing it so that every family got some; the same for bananas – one for every child in the village. Strange but true.
Years of austerity
The immediate postwar years were indeed ones of austerity. But in Hampton on the Hill, people on the whole survived quite adequately. Everyone had a vegetable garden, many had fruit bushes and even trees. Jam making and fruit bottling were common, and the garden fruit was supplemented by picking blackberries in the hedgerows. There was an allotment garden which, surprisingly, could have been more popular than it was. Many kept chickens, their diet supplemented by gleanings from harvested fields, and a few, pigs. The sorts of deprivation associated with that period were therefore far less in evidence.