Nuneaton & North Warwickshire Family History Society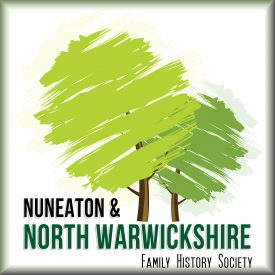 Our Family History Society is the primary genealogical group for all of northern Warwickshire – based on the old "shire" county boundary. The Society encourages all with links to the area to join – whether distant or locally based. Help desks are run in several local libraries and online where we particularly try to assist members living out of the area. There is always time for informal help at regular meetings during refreshment breaks.
The society's lively and interesting website has a regularly increasing amount of data available, and a growing number of publications for sale which deal with parish registers and other useful material to assist researchers. We maintain a surname interests list enabling members researching the same families to get in touch and pool their knowledge. We also publish a quarterly Journal, free to members.
Meetings
Meetings are held on the second Tuesday of each month, 7.15pm (start at 7.30pm), at the Chilvers Coton Heritage Centre. The programme is available on the website: speakers on topics of relevance to local or general family history topics are featured. The group does not meet in December. Anyone can attend meetings – there is a small entrance charge towards the fees of speakers, etc.