BMSGH (Birmingham and Midland Society for Genealogy and Heraldry)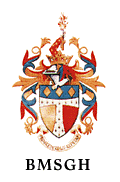 Our Family History Society is the principal genealogical and heraldic society for the counties of Staffordshire, Warwickshire and Worcestershire. This includes the areas of 'old' counties, as they existed before the major boundary changes of the 19th and 20th centuries, as well as the areas brought into them by those changes.
In particular, the modern metropolitan boroughs of Birmingham, Coventry, Dudley, Sandwell, Solihull, Walsall and Wolverhampton (collectively known as the West Midlands) are within our area.